King's Town
Title: A View of King's Town (Late Newcastle).
Date: 1828
Engraver: Joseph Cross
Published in:
Author: Dangar, H. (Henry), 1796-1861
Title: Index and directory to map of the country bordering upon the River Hunter ; the lands of the Australian-Agricultural Company, with the ground plan and allotments of King's Town, New South Wales : containing a detail of the annual quit rent and amount of the redemption of the same ; also historical notes upon the tenure and principle of granting lands in the colony since 1810 ; also for the guidance of emigrant settlers, a description of the unlocated country in the vicinity of Hunter's River ; useful geographical notes on Liverpool Plains ; the present regulations and conditions upon which grants and sales of land are made by government, with observations thereon, with a view of the present state of agriculture in the colony, price of land, advice to settlers, & c. the whole forming with regard to land affairs in that colony, a complete emigrant's guide / by H. Dangar
Published: London : Joseph Cross, 1828
Click on the image to see it at its full size in a new window.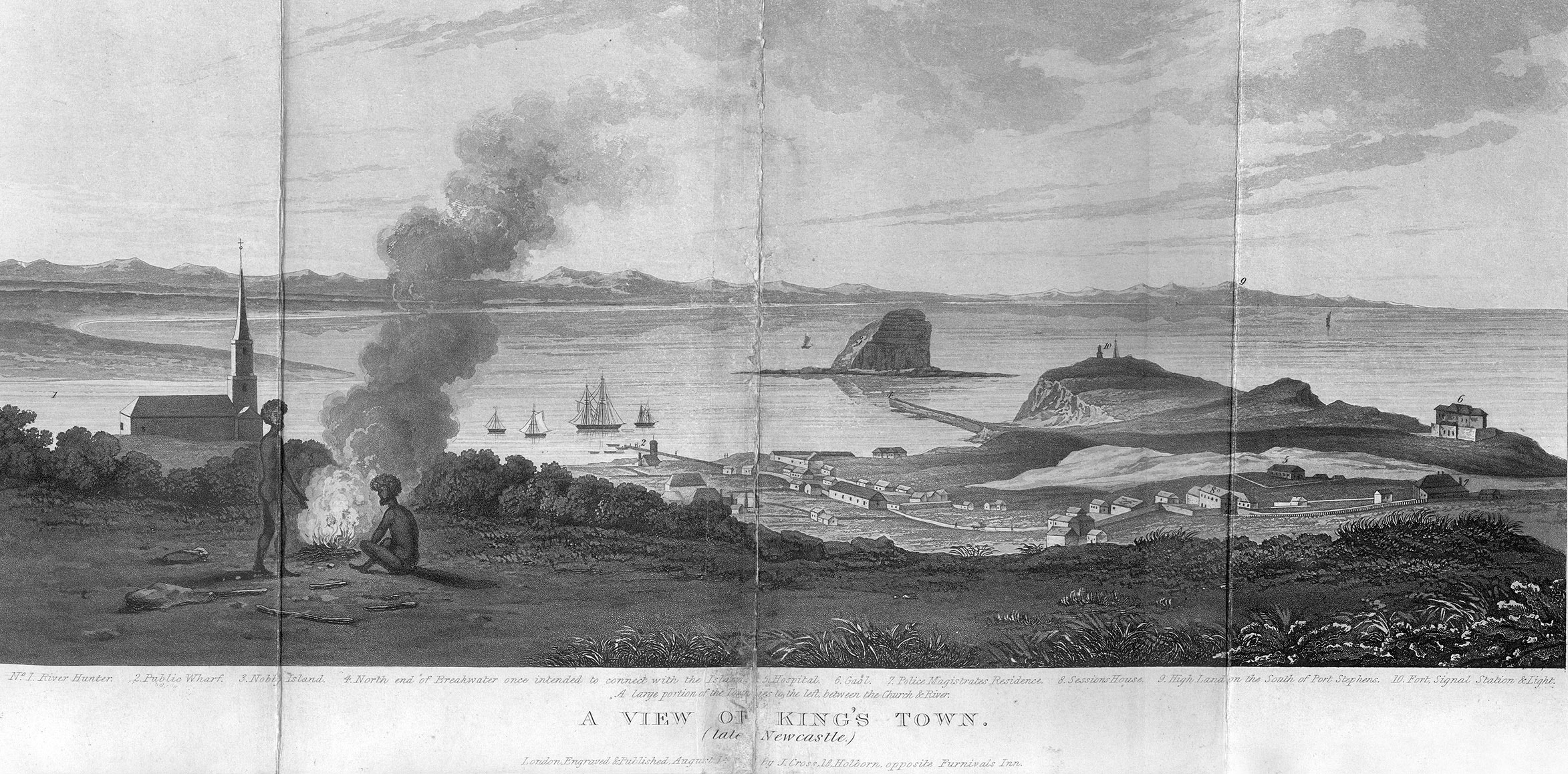 Printed on the engraved image are the following numbered locations:
No.1 River Hunter. 2. Public Wharf. 3. Nobby Island 4. North end of Breakwater once intended to connect with the Island. 5. Hospital. 6. Gaol. 7. Police Magistrates Residence. 8. Sessions House. 9. High Land on the South of Port Stephens. 10. Fort, Signal Station & Light.";

Below: "A large portion of the Town Lies to the left, between the Church & River./ A VIEW OF KING'S TOWN./ (late Newcastle.)/ London, Engraved & Published, August 1st. (1828) by J. Cross, 18 Holborn...opposite Furnivals Inn."