The University Photographic Collection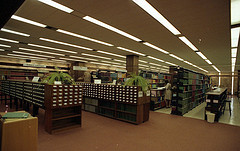 These photographs were scanned from the University of Newcastle's Historical Photographic Collection held by Cultural Collections. We have scanned either the positive or negative of each photograph and uploaded it to our Living Histories @ UON site.Many of them were taken by the University Photographer for publication online or in one of the University's newsletters or other publications.
We have digitised all of the Gazettes, Bulletins, University News, UniNews, Van Gogh's Ear, the Ear and Back Page (the Sports Union's newsletter) and uploaded them to Living Histories @ UON.
Disclaimer
Please contact us if you are the subject of an image, or know the subject of an image, and have cultural or other reservations about the image being displayed on this website and would like to discuss this with us.
The images can be used for study and personal research purposes. If you wish to reproduce an image for any other purpose you must obtain permission by contacting the University of Newcastle Library's Cultural Collections.