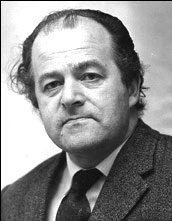 Dr Edward Richardson
Principal, Newcastle College of Advanced Education
1976 -1984
The Richardson Wing
Obituary reprinted from: Campus News: Newcastle College of Advanced Education 5:19 (October 16, 1984):
The late Principal of the College, Dr Edward Richardson, was a very far- sighted man and a Principal who would be hard to replace, according to the President of the College Council, Mrs Margaret Bowman. Mrs Bowman said Dr Richardson was dedicated in his efforts for the advancement of Newcastle C.A.E. and also its status as an educational institution.

Mrs Bowman was one of many people who paid tribute yesterday to Dr Richardson after learning of his death. Dr Richardson passed away on Saturday morning in the Mater Hospital after suffering a heart attack at his home. He was 54 years of age.
Mrs Bowman said Dr Richardson was a Principal who was always looking at the future of the College and a man who was not prepared to be happy with a status quo situation."He was a man who respected strength and forth-rightness in the people who he was dealing with," said Mrs Bowman.
It's an unfortunate fact of life but you never really appreciate what the contribution of a person is until you have to replace that person," she said.
Dr Richardson was born in Seghill, near Newcastle-upon-Tyne in the north of England and after school entered Kings College at the University of London.
He graduated from the University in 1951 with a Bachelor of Science degree, for which he gained honours in Chemistry. In 1952 he was awarded a Postgraduate Certificate in Education, again from the University of London.
Dr Richardson started his doctoral studies by external study whilst a technical college teacher in England and gained his Doctor of Philosophy in Chemistry in 1956.
He came to Australia in 1968 to take up a position of Senior Lecturer in Education at Macquarie University and was promoted to Associate Professor in 1971.
Dr Richardson was appointed as Principal of the Newcastle College of Advanced Education in 1976 and was responsible for guiding the institution through a period of continuing diversification.
From a major emphasis of teacher education,the College now offers a variety of courses in the fields of the arts and paramedical and community welfare studies. Under Dr Richardson's direction it is also looking at the possibility of offering courses in the business and technological studies area.
Assistant Principal, Dr Doug Huxley, said one of the most striking points in his mind about Dr Richardson was the late Principal's empathy with people from less fortunate socio-economic groups.
"Dr Richardson knew a lot about that kind of situation because of his own background," said Dr Huxley. "He understood the struggle people went through when they didn't have the start of a good background," said Dr Huxley.
"He was interested in making sure first or second generations of these socio-economic groups who didn't feel comfortable in entering tertiary education would feel comfortable in this C.A.E."
Dr Huxley said Dr Richardson was also determined to make sure that Newcastle C.A.E. emphasised its academic strengths.
"He continued to fight to make sure the College recruited the best people, whether academic or non-academic," Dr Huxley said. "This seemed to set the tone for the College to strive for high standards of staff and operation."
Two other people who paid tribute to Dr Richardson were the President of the Students' Association, Jennie Lang, and the Acting Vice-Chancellor of Newcastle University, Professor Michael Carter.
Jennie said she believed the S.R.C. had lost a friend instead of a Principal because of the close association the Students' Council had with Dr Richardson in the past three years.
"His work with the students was not widely known because he didn't publicise it very much," said Jennie. "It was largely because of his interest that we were able to build the Student Union Building and the Child Care Centre.
"His door was always open and he helped the S.R.C. Executive many times by his advice and direction," said Jennie.
Professor Carter said Dr Richardson was a strong advocate of improving the educational opportunities in the Hunter Region.
"He was particularly concerned to develop courses which would enable people from all backgrounds and all ages to enter a tertiary institution and fulfill their potential to the utmost," said Professor Carter.
Dr Richardson is survived by his wife, Brenda and two daughters. The youngest, Ann, is a student in Home Economics at this College.
A church service was held for Dr Richardson at 2 pm on Wednesday October 17th 1984 at St Luke's Uniting Church in Narla Road Belmont. A private cremation followed at Berefield Crematorium.