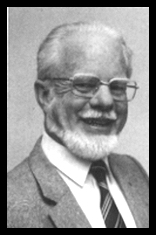 Kevin McDonald
The Kevin McDonald Chair of Environmental Inspiration
Kevin McDonald's contribution over 20 years both to environmental studies and to the creation of our bushland campus, was appropriately recognised earlier this month by the Board of Environmental Studies with a wood and iron park bench.
"We decided to place it beside the path between the Chancellery and the Student Union because it seemed an ideal place for those of us who have enjoyed Kevin's guided walks and talks though the campus bushland," lecturer in environmental science, Phillip Geary said.
To be known as the Kevin McDonald Chair pf Environmental Inspiration, it was dedicated to him by the Board in a short ceremony held during Environmental Week.
(Reprinted from The Ear, Edition 4, 30th April 1996, p.3)