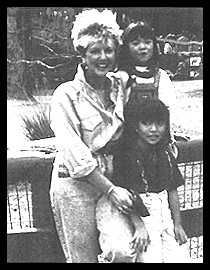 Helen Parr
The Helen Parr Room, The Chancellery
"Members of the University community were saddened recently to hear of the death of popular member of staff, Helen Parr, who passed away after a ten year battle with cancer.
Helen began work as a clerk with the Newcastle College of Advanced Education in February 1974 and progressed to become an Administrative Assistant and later an Administrative Officer in the then Staffing Services Office. On amalgamation, she assumed the role of Administrative Officer (Recruitment) in the University's Staff Office.
Highly dedicated, competent and meticulous in her job, Helen was held in high esteem, not only by those within the University, but also in the wider community. A highly motivated person, Helen managed to interweave personnel management and university studies into her busy life.
Her cheerfulness, fairness and consideration of other people were hallmarks by which she was known by so many.
She had an indomitable faith in life and in people, and her strength and courage during her illness were an inspiration to all who knew her.
Helen is survived by her husband, Rob, and her daughters Aleah and Kiera. She will be keenly missed by her family, her many friends and her colleagues."
(Reprinted from The University of Newcastle Bulletin, December 18, 1991 p.5)