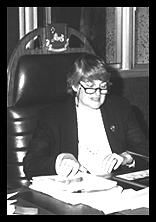 Justice Elizabeth Andreas Evatt
Evatt House
Elizabeth Andreas Evatt was the second child in the family of Mr. & Mrs. Clive Evatt. The family lived on Sydney's upper North Shore in Wahroonga, still a remote and rural area in the thirties and forties. While the sity was rarely visited, life was filled with the pleasures of the Kuring-gai reserve and the intensity of family life. She was a pupil of the Presbyterian Ladies College at Pymble, where the emphasis was on achievement. At School she was a quiet, reserved student, usually to be found sitting in the front of class. Although not outstanding at games she was well liked. She also had that degree of poise which ensured that the name Elizabeth was not abbreviated. Her work at school indicated the high intellectual achievements to come. But her happiest memories are linked to musical activities - the school orchestra, the piano, the oboe and fleeting attempts to master the double bass - which despite the attempts of an Italian teacher is now fondly remembered best as an introduction to Italian food! The interest in music has continued and is shown publicly in service as a trustee of the Sydney Opera House and support for the Blue Mountains Festival at Katoomba.
From school it was logical for her to proceed to read Law at the University of Sydney. She obtained a reputation as a quiet student who despite a fondness for practical jokes was studious and eminently successful, collecting prizes in each of her four years and graduating with first class honours and the University medal. She was admitted to the New South Wales Bar in 1955 but then went to America to study at the Harvard Law School for twelve months.
Her career as a lawyer began in England in 1956 first as a barrister and then as an editor of the International and Comparative Law Quarterly. A move of great importance came in 1968 when she was invited to join Lord Scarman at the English Law Commission. She worked there for five years and this period revealed the possibility of using legal skills to achieve social ideals.
Her first task was to develop work on family property law. With hindsight it is not difficult to see the importance of this for her future work.
In 1973 she returned to Australia to her appointment as Deputy President of the Conciliation and Arbitration Commission and then as Chairman of the Royal Commission of Human Relationships. Important though these were, they now appear to be logical and appropriate preparation for her appointment as the first Chief Judge of the Family Court of Australia established under the Family Law Act in 1975.
Despite the controversy that surrounded the legislation and the establishment of the Court, it is now seen that Justice Evatt has presided over a major development of Australian law and has achieved an outstanding social reform. This has not come easily. Justice Evatt bore the full weight of the Joint Select Committee into the legislation in 1980 and has seen violence on an unprecedented scale against the Court and its officers; one judge was murdered in 1980, two more injured by bombs and Pearl Watson, the wife of a judge was killed by a bomb in 1984. The initiative in establishing the Pearl Watson Foundation was taken by Justice Evatt.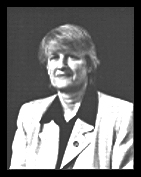 Justice Evatt has written:
"I accepted the opportunity to apply social idealism to family breakdown - to encourage the spirit of reconciliation, to believe that parents would, if given the chance, put their children's interest above their own. The Law…would have a new purpose, that of applying principles of fairness and justice to people undergoing the misfortune of a broken marriage. The message may take a long time to learn, but if it can be learned, then perhaps it can be transferred into other areas of human conflict."
Her translation to the Law Reform Commission at the start of this year can surely be seen as the widening of her ability to apply social idealism to a wider range of problems.
To all her work Elizabeth Evatt brings a thoughtful and compassionate spirit. She brings a level of commitment and a deep sense of justice. And she demonstrates that capacity for sympathy with people and especially for her staff which always elicits a warm response and deep loyalty. Elizabeth Evatt, born into a family with expectations of high achievement has clearly fulfilled those expectations.
(Reprinted from Installation of the Chancellor - Hon. Justice Elizabeth Evatt, A.O., Friday 29th April, 1988.)