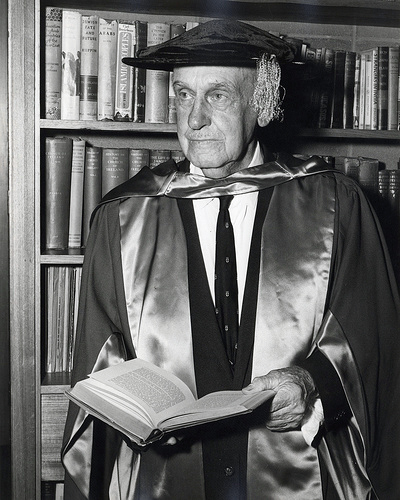 Brigadier J.M.C.Corlette (1880-1969)
The Corlette Court Fountain
As a professional engineer Brigadier J.M.C. Corlette came from the University of Sydney and commenced as a junior with the Public Works Department, then for a time he held the position of engineering administrator at the University and later lecturer in engineering at the Kalgoorlie School of Mines. His 37 years service with the Hunter District Water Board, included 20 as Chief Engineer. During this period the Board became autonomous and major works were planned and carried out, including the Tomago Sandbeds Water Supply Scheme, a survey of water resources available in the Region and several substantial sewerage schemes. As a member of the Institution he came from a founding society, the Northern Engineering Institute, of which he was a Committee Member in 1913-1914. He was elected to the Division Committee on its formation in 1920 and, until his death in 1969, continued to serve as a committeeman. He was Division Chairman in 1927-28, Councillor from 1927-1960 and President of the Institution in 1930. The Institution's regard for him as a professional engineer was further demonstrated by two awards, the Warren Memorial Prize and the Peter Nicol Russell Memorial Medal. He was elected as an Honorary Fellow of the Institution in 1960, a very rare honour. In 1966 he was awarded an Honorary Doctorate in Engineering by the University of Newcastle.
As a soldier Brigadier Corlette received his first commission in 1905. He saw service in Australia, India, throughout the Gallipoli campaign and in France and Belgium. In addition to the honours designated in his title he was also mentioned five times in despatches. His promotions from junior rank to Major, Lieutenant-Colonel, Colonel and Brigadier-General are evidences of his value as a soldier. He was a well remembered figure as a leader of the Anzac Day march for many years.
As a citizen he played a prominent part in cultural and environmental matters. His appreciation of trees is well remembered. He founded and was President of the Tree Planting and Preservation League in the 1930's, which vigorouly opposed wholesale destruction of trees and campaigned for continuous planting of trees in roads and streets. His personal interest in the planning and planting of trees and shrubs at Chicester Dam and many reservoirs and pumping stations laid the foundation for the Water Board's present and future beautification policy. He was a Vice-President of the War Memorial Cultural Centre, one time President of the Newcastle Division of the Australian Planning Institute and, from 1927 to 1956, President of the United Service Club; he was also Patron of the Newcastle Sub-branch of the R.S.S. and A.I.L.A.
(Reprinted from The Corlette Court Fountain Unveiling Ceremony 30th March, 1973.)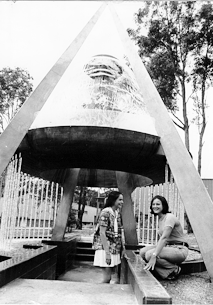 The Corlette Court Fountain as it appeared in its heyday.