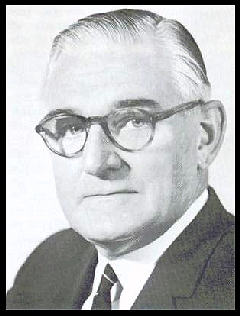 Sir Bede Callaghan (1912-1993)
Callaghan Campus
Sir Bede Callaghan, after whom the University's geographical location was renamed in 1992, died from a heart attack in mid-September, aged 81. He was the University's second Chancellor holding the position from 1977 to 1988 after serving as Deputy Chancellor to Sir Alistair McMullin from 1973 to 1977. Born and educated in Newcastle, he was the General Manager of the Commonwealth Development Bank (1959-65) before being appointed Managing Director of the Commonwealth Bank in 1965; a position he held until his retirement in 1976. During a distinguished career, he also held the post of Chairman of the Foreign Investment Review Board and Executive Director of the International Monetary Fund. He was awarded the John Storey Medal in 1974 by the Australian Institute of Management and in 1977 received the Sydney Rotary Club's annual Vocational Service Award. He was knighted for distinguished services to banking in 1976.
Despite his achievements, or perhaps because of them, his theory on life and work was a straight forward one. He always found his work satisfying and therefore did it to the best of his ability. In the year of his knighthood, Sir Bede commented on his work ethic "I suppose it was my Catholic background and my parents' attitudes towards work that strongly influenced my own approach. I do believe there is a certain moral obligation involved. We have a responsibility to work to the best of our ability and we have an obligation to those we work for."
However, work was something he did rather than spend a lot of time thinking about. He always tried to spend some time during the weekend relaxing. Pastimes that were particular favourites were lawn bowls and following the football, especially the round ball variety. Having spent some time in London, his allegiance to the Chelsea soccer club remained with him until his death. Sir Bede liked all types of sports and took such roles as his Chairmanship of the Institute of Sports Medicine very seriously.
Although closely interested and involved in government matters throughout his life, Sir Bede never had the desire to go into politics. That he left to his son-in-law, former NSW Premier Nick Greiner, whose wife, Kathryn survives her father together with her two sisters and mother, Mollie.
Shortly after Sir Bede's death, the Vice-Chancellor, Professor Mortley spoke on behalf of those who remembered him well. " He worked tirelessly in his 11 years as Chancellor and was dedicated to making the University of prime importance not only for the Hunter Region, but also for New South Wales and Australia. When he stepped down in 1988 he still maintained close links with the University and he will be sadly missed by many good friends that he had on campus."
(Reprinted from Van Gogh's Ear, October 1993, p.2)