Whatever happened to Shelley Beach?
Introduction
Shelley Beach, or Shell Beach Park, was a coastline recreation area for the people of Mayfield, the last area of waterfront land from Newcastle to Sandgate that formed part of the Platt's Channel. It was filled in by B.H.P. in 1950 after a deal with the Local and State Governments that saw the channel being given to the company in exchange for land located at Shortland, upon which the University of Newcastle now rests. The machinations began on the 13th November 1941 and ended with the first shovel of fill being thrown on 21st April 1950.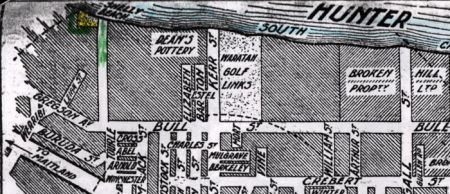 The first mention of Shelley Beach is in the Colonial Secretary's Correspondence. John Laurio Platt, upon whose grant the beach lay, writes on the 28th June 1835 in relation to some wayward convicts that "he readily gave him the lend of a man to assist in having one thousand bushels of lime on the shell bank close to my house." It was in all probability an Aboriginal midden that contained evidence of thousands of years of Aboriginal habitation in the form of shells that had been harvested from the channel, it could also have been a burial ground. Platt used it as a wharf when he settled on his 2000 acre grant, with the original intention of exporting timber.
The story of Shelley Beach is also the story of how Mayfield and Newcastle lost all their waterfront land to progress and industry. We must ensure that the sanctioned environmental vandalism that destroyed an entire channel, a recreation beach, that irrevocably poisoned the South Arm of the River, and saw the entire waterfront taken from the people of the area, never happens again to any place and time. It calls us to endeavour to achieve some equilibrium between the goals of human industry and development and the needs of the natural world, upon whom we all owe our true living and prosperity.
I am greatly indebted to the following individuals, without whose stories and diligent historical work Shelley Beach would truly be lost to the imagination. Mrs Ellen Lane, Helen Marshall, Vera Deacon all provided recollections, the latter also collected the numerous Herald reports from the 1940s. Wendy Swan provided newsclippings relating to the drownings of the Wilkinson and Bray boys in 1890.
Vale Shelley Beach
Gionni Di Gravio
Easter 2000