Compulsory Military Training
A poem by Capsicum (Josiah Cocking), 1939
The diaries and notebook papers of Mr Josiah Cocking were acquired by the Cultural Collections Unit of the University of Newcastle. Mr Cocking was a miner and part of the early socialist and free-thought movement of Newcastle. He lived for a time in Mayfield, and wrote much verse for the local papers of the time under such pseudonyms as "Dandelion" and "Capsicum". Here is one of his poems concerning military training that included a photograph of the unemployed camp at Platt's Estate.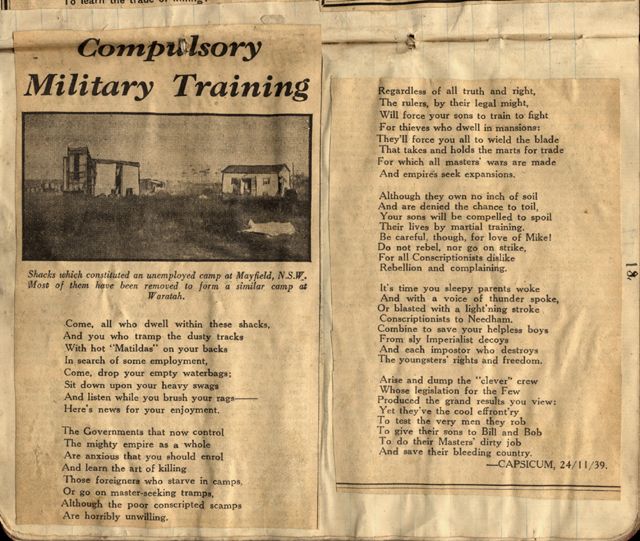 Josiah Cocking Poem under Pseudonym of 'Capsicum' 24/11/1939
Transcription
[Under photograph: Shacks which constituted an unemployed camp at Mayfield, N.S.W.. Most of them have been removed to form a similar camp at Waratah.]
Come, all who dwell within these shacks,
And you who tramp the dusty tracks
With hot "Matildas" on your backs
In search of some employment,
Come, drop your empty waterbags:
Sit down upon your heavy swags
And listen while you brush your rags
Here's news for your enjoyment.
The Governments that now control
The mighty empire as a whole
Are anxious that you should enrol
And learn the art of killing
Those foreigners who starve in camps
Or go on master-seeking tramps,
Although the poor conscripted scamps
Are horribly unwilling.
Regardless of all truth and right,
The rulers, by their legal might,
Will force your sons to train to fight
For thieves who dwell in mansions:
They'll force you all to wield the blade
That takes and holds the marts for trade
For which all masters' wars are made
And empires seek expansions.
Although they own no inch of soil
And are denied the chance to toil
Your sons will be compelled to spoil
Their lives by martial training.
Be careful, though, for love of Mike!
Do not rebel, nor go on strike,
For all Conscriptionists dislike
Rebellion and complaining.
It's time you sleepy parents woke
And with a voice of thunder spoke,
Or blasted with a light'ning stroke
Conscriptionists to Needham,
Combine to save your helpless boys
From sly Imperialist decoys
And each imposter who destroys
The youngsters' rights and freedom.
Arise and dump the "clever" crew
Whose legislation for the Few
Produced the grand results you view:
Yet they've the cool effront'ry
To test the very men they rob
To give their sons to Bill and Bob
To do their Masters' dirty job
And save their bleeding country.
–CAPSICUM, 24/11/39