Lean Library provides one click access to UON Library's subscription content and Open Access full text journal articles and eBooks wherever users are located, including off campus. It does this by alerting the user to available content when they are searching in Google Scholar, Google, publisher web sites, Amazon, etc., and enables the user to login and access the content.
On campus
Staff need to download the plugin on your PC or laptop.
Students using their own personal laptops on campus need to download the plugin.
Library and Student Labs have the plugin loaded and available.
Off campus
Download the Lean Library browser extension on your own laptop or PC, and let it automatically help you access the resources you need wherever you are.
How to install Lean Library Access
Installing the extension for Chrome, Firefox, Edge, Opera, or Safari on your laptop or PC is easy.
Go to Lean Library
Click on Download
Select Allow or Add, depending on browser type
Click Add to Allow Library Access, select your Library as University of Newcastle (AU)
Leave box unchecked Skip the pop up and automate access to receive messages from the Library, then select save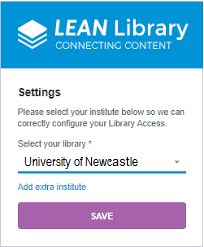 Once installed, Lean Library will alert you when you have immediate access to full-text content immediately. It will also provide an Open Access version if one is available when content is not available via our subscriptions.

How to use Lean Library Access
Use Google Scholar to search for your topic or article

Click on any valid link to a publisher or Database site

A symbol will turn green on the top right hand corner

A pop up will appear to gain access.
If UON does not have access you will be alerted if there is an available Open Access alternative.
Please see the Lean Library Privacy Policy for more details.